Crate VTX 200S 2x12 Stereo Combo Amplifier:
As reviewed by ASchleman (Adam Schleman)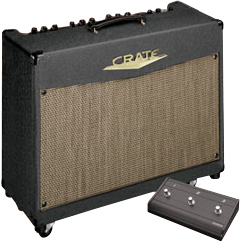 Output Power Rating: 70W per channel @5% THD, 8 ohm load
100W per channel @5% THD, 4 ohm load
Speaker Size and Rating (2) Celestion Seventy 80W 12" 8 ohm
Maximum Input Signal Accepted 5 volts peak-to-peak min. @ 1kHz
Total System Gain Ch 1 74dB, all controls @10
Ch 2 88dB, all controls @10
Ch 3 103dB, all controls @10
Channel 1 Low Control 26dB range @ 70Hz
Mid Control 10dB range @ 900Hz
High Control 20dB range @ 10kHz
Channel 2 Low Control 26dB range @ 70Hz
Mid Control 10dB range @ 900Hz
High Control 20dB range @ 10kHz
Channel 3 Low Control 17dB range @ 100Hz
Mid Control 16dB range @ 1kHz
High Control 12dB range @ 7kHz
Internal Speaker: (2) Custom Design 12", 8
Input Impedance 470k
Power Requirements: 120 VAC, 60Hz, 95VA
100/115VAC, 50/60Hz, 95VA;
230VAC, 50/60Hz, 95VA
Size and Weight: 21" H x 27-3/4" W x 11 1/4" D, 45 lbs.
http://www.crateamps.com/html/product.cfm?pid=114#
This past weekend I packed my precious #1 Strat up and headed to my nearest Guitar Center to put the tone needle in my vein and get my much need high from trying out some new gear. As I stumbled through the Indianapolis GC… stepping around, and occasionally over, numerous people that were feeding their own tone demons... I came across a few worthy pieces of gear. A few that I would have to contemplate whether the purchase would be justified or not. Seeing as in how I currently haven't bought an amp that I didn't later sell due to the fact that I can't find something formidable to my JCM 800 or my Fender Deville. On that faithful day I think I did.
I spent about an hour with my guitar and a 2x12 solid state stereo combo. Taking breaks from my blues riffs and licks to yield to the obnoxious novices with poor Guitar Center etiquette… you know them, the ones that turn the amp to 10 so they can hear how bad ass their layman version of 'Smoke on the Water' sounds… After the GC hooligans would finally reduce their volume to an acceptable amount I would again go back to my tone haven that I found in the middle of a GC. Of the hour that I spent next to the amp, I would say I spent a solid 25 minutes of it actually being able to hear what I was playing and being able to hear to amp.
During my time of playing I noticed a few things:
1. The speakers convey the sound verrrrry nicely
2. The effects are pretty useful but most of the time I just turned them off and used the amp straight from my guitar
3. The amp, clean or dirty, should be twice as much as what they offer for it. You can get a used one like this one (
http://cgi.ebay.com/Crate-VTX200S-2x12-Stereo-Combo-Amplifier_W0QQitemZ110065381468QQihZ001QQcategoryZ38073QQssPageNameZWDVWQQrdZ1QQcmdZViewItem
) on Ebay for 350-400 and a new one for 450-500
4. The 3 channels with individual mid, low, and high controls as well as volume and gain controls is a KILLLLLLER feature when you're gigging. It allows a lot of customizing to be done….
That's not all… but just a few of the big things that I wanted to list for you.
Very rarely do you play with an amp that gives you the tone of your guitar… colors it when you want it to… and minds the controls that you place on it. Even my JCM8 takes my Custom Shop '69 pickups and turns them slightly into high output metal monsters. This Crate amp takes a beautiful vintage approach to the Amp world. Awesome vintage looks, killer vintage sounds. The stereo function helps tremendously when using the flanger settings or the phaser effects. The built in tuner is right there at all times so you don't need to waste money on a pedal tuner or fiddle with a bunch of function buttons like you did on the old Spiders. If you're looking for a killer vintage vibe amp, a second amp, or if you're looking to step up to a high watt combo… DEFINITELY play one of these. Obviously this amp isn't going to fulfill the needs of those high gain whores.. or those grinding detuned junkies… But if you're a well rounded guitarist that plays rock, classic rock, blues, clean stuff, jazz… or anything besides hardcore-high-gain-powermetal….. do yourself a favor and check this amp out. It's a piece of gear that isn't expensive by any means. I'm going to purchase one as soon as I can, and that's a promise!! Check out the Crate website to see all the specific features.
The Final Thought:
As I've always said… the biggest thing about being a gear whore or even just a curious beginner… is looking for the "Bang for the Buck" With this amp, you definitely get the most bang for your buck in a 100W 2x12 Stereo Combo package that will keep you satisfied for a lonnnnnng time. If you're considering the Spider series… check this amp out first!!