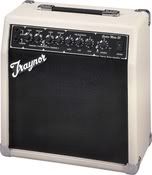 Well I have had this little amp for a while, so I'll take a crack at reviewing it. This is my first guitar amp, which I purchased brand new at Long & McQuade in Winnipeg for about $100.
This amp is very small and light, but it puts out a lot of volume for it's size, especially considering it has only a 7" speaker. It's great for practice and I can easily use it to be heard over a drum set. I wouldn't use it for gigging, naturally, but for anything from practice to jamming sessions with drums or bass it gets the job done. However when playing at high volumes in a drop tuning, I tend to get a rattling sound on the low notes. That said, I actually found that this amp rattles less than similar, more expensive amps, such as the Fender Frontman 15.
It has two channels with seperate gain and volume. Knowing which channel you are using is easy with the nifty green light-channel one, red light- channel two system. There is a footswitch jack, but the footswitch has to be purchased seperately. The clean channel sounds good and works for a blues or clean rock tone. Channel two can go between a little distortion to a disgusting cut-up-your-ears scream. I prefer to use the clean channel with my RAT pedal but the amp has great tone range for the price.
The EQ control, in my opinion, doesn't do a whole lot. From flat tone, to spiking highs, to thudding lows...it all sounds pretty much the same. There is some minor difference but the tone knob on my guitar does more to adjust the sound. Also the knobs seem to be backwards...usually the knob on the left would be low, then mid, then high, but it's the other way around. This is kind of annoying but you get used to it. Especially since I never bother turning the things anyway :p
The amp has a built in chorus effect. It actually has a pretty good sound, although I don't think the highest setting has enough chorus. You can get a Nevermind-like low chorus at about the middle setting, and an organ-like sound when maxed out with comparatively little variety in between. It also seems that it stops working at random sometimes, then works fine again later, which I have yet to find an explanation for. Aside from that though, for the money, it is better from the complete lack of effects you would expect.
To recap:
PROS:
Cheap
High volume and good sound for price
Built-in chorus with moderate quality
CONS:
Some rattling on low notes at high volumes
EQ tweaking accomplishes little
Chorus sometimes doesn't work
Overall I think this is a great starter amp or pratice amp. Aside from some small complaints, it is better than I would expect from an amp that costs this much. I tried it next to some higher priced, similar sized competitors and it beat them in every category. For the starting guitarist on a budget, this is highly recommded.