The days have finally arrived... Those days I hid my eyes from the way a small child hides his eyes from something he's scared of... Becuase if the child can't see it, it's not really there... Is it? The day I speak of is this day.
I love vintage equipment. If anyone has seen my black Strat... you know this. But my Number One Strat has always been my baby... The one that I've taken care of... The one that I don't set on fire. Well she's getting old sad to say... My Number One is going under the knife... I've ignored her age for far too long. I've been playing GHS Zakk Wylde Boomers on her for a long time, and I finally moved back down to a set of Regular Slinkies by Ernie Ball...... I noticed when I had the strings off the amount of fret wear that she has is insane.... I've been playing A LOT of guitar lately... The nut has become worn down, the frets are almost flat in more than a few areas.... As for the neck in general: It's a maple neck... they tend to warp and bend faster and more often than a rosewood fretboard. My Number One has developed hte old 'rising toungue' condition... So the fretboard is going to need to be leveled... I even think she's worked loose a ground connection somewhere... she's been making a lot more noise than usual...
The list of work that is going to be done to her:
-New nut
-New frets (Dunlop medium's I think... she has vintage smalls on her now)
-Leveling of the fretboard (12" radius)
-Check the wiring... I will probably go in and reshield the inside of the guitar
-I've been contemplating whether or not I should switch to Vintage Noiseless pickups... or possibly the Hot Noiseless pickups.... She has Custom Shop '69s in her now... I love them, but I kind of want to try something else out...
Of course there's the plus side to the aging process... My maple freboard is finally starting to get that vintage look to it. I'm wearing parts of it to bare wood!!! I love the look of a worn in fretboard. The headstock is starting to look it's age too... I love it. The body has a few signs of age as well... The back is getting its share of buckle rash... The pickguard use to shine... it's getting a little dull... The knobs and pickups are getting that mint green tint to them... Ahhhhh vintage instruments. Too bad I'm going to have to spend a fortune to get her fretboard back to new again...
Anyway, I thought I'd share this with my Guitar Tricks Family since this is a major milestone for my first love.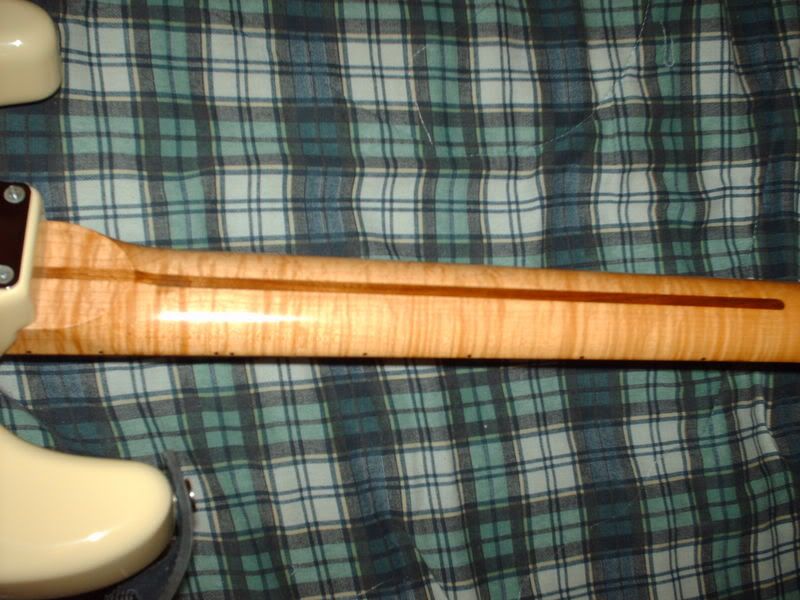 Now I have to decide who I'm going to trust with the frets and fretboard leveling.... I would do it myself but I don't have the time nor workspace to do it anymore.......... :rolleyes: