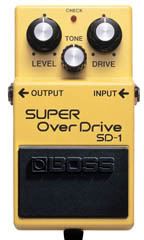 Paid $60CDN on ebay.
List on Musicians Friend ~$50USD.
[U]Pros[/U]
*Built like a tank
*It's a Boss
*Nice colour (Yellow stands out in pedalboard) :p
*Rubber grips, on pedal and floor
*I prefer stepping on a whole block than locating and mxr style switch
*Knobs have a true turning resistance feel
*Adds lots of volume to cleans and a nice blues crunch to cleans
*Has tone knob
*Adds killer sustain to overdriven amp
*Cheap
[U]
Cons
[/U]
*Very midrangy-maybe not suitable for all tastes
*Colours overdriven tone quite a bit (for example-as opposed to mxr zw-44)
[U]Review[/U]
I've had this pedal for a month now. I play it using a marshall mg50 and an OLP Petrucci (also reviewed by me). It's a solid little bugger. I use it only as a boost over my amp's od. I don't fancy the ampt OD so much, so i set it around 4-5 and on the pedal I do;volume 5, gain 1, tone 3. It gives a huge OD boost, which is great for solos. It's a boss so you know you can count on it. I'd even consider having two on the pedal board.
It could be best compared to a ZW-44 that colours the sound a lot more and doesn't have a faulty switch.
I'd definatley reccomend this to anyone wishing to add a boost to their od channel. If you are using it as a stand alone overdrive pedal...try it first, you may be dissapointed. But as far as adding boost, a tiny bit of gain boost goes a long way.
If stolen, I'd definately buy another, then find out who stole it and beat them with it.
For life is quite absurd and death's the final word, You must always face the curtain with a bow
Forget about your sin - give the audience a grin
Enjoy it - it's your last chance anyhow.
METOOB