When bassists do this (there's been a few notable examples), it's the norm to run all one's effects and other tweakings (distortion, compression, etc.) through amp #1, and have nothing but pure clean untouched tone going through amp #2. I'm looking to do this with my... uhhhhh... fretlesses :D Though it's been done (Mudvayne, Primus, Cephalic Carnage, etc.), fretlesses are generally not built for heavy music and sound like total barf if you, say, just run it through a single amp with mounds of distortion and overdrive. Chords (played fast with three finger technique) help, and slap/pop can be done though it's much trickier than on a fretted. Normal fretless technique is more delicate and a pick would make the strings waver/flop/wobble too much... as you can't have very much string tension unless you've got a Terminator cyborg left hand. Also, frets give it "bite."
Fretlesses are built for running clean... ideally through a '18 subwoofer (real lousy for heavy slapping, chord raking, fast/hard picking, etc. [which is why bass cabs more often come with '10 speakers] but otherwise ideal for tone and presence). So you get that smooth growl that makes tone freaks pucker their nether-regions, buuuuuuuut... switch on the distortion and overdrive and it sounds more like a 400 lb. vegetarian farting on a pinwheel. Chords, whatever slap/pop can be done, and lots of compression can help... but fretlesses are meant for slides and bends (ohhhh yeah) so hopefully if I had a second amp, running clean with no effects or anything, I'd be able to pull off what I'm after.
But all that, of course, is for another board.
For guitar, I think if I kept the effects limited to the main amp and left the other two 'pristine' it would work without too much... uhhhh... overwhelmingness. I'm kind of a minimalist when it comes to effects anyways, unlike this guy, the infamous Agata of Melt-Banana: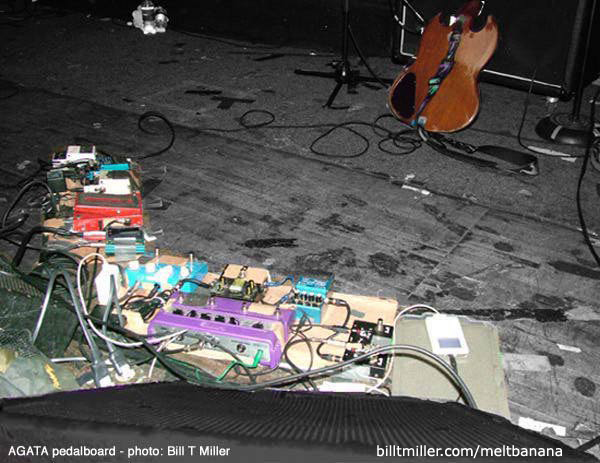 http://en.wikipedia.org/wiki/Melt_Banana
My brother saw them live down in San Diego... says he was stomping on some pedal or another every two or three seconds, and instead of a slide was using what my brother described as "a piece of metal he found on the ground." It sounds like... a grizzly bear trying to eat a Moog machine.
Now... if I only had the cash!!!
A slightly more budget-friendly version of the above is a Traynor 2x12 for main (from what I understand, similar to Fender but better at dirty, whereas Fender is better at clean), a Fender 1x12 for clean, and... maybe something by Peavey in 1x12 for extreme. Yeesh... that's not too much friendlier....