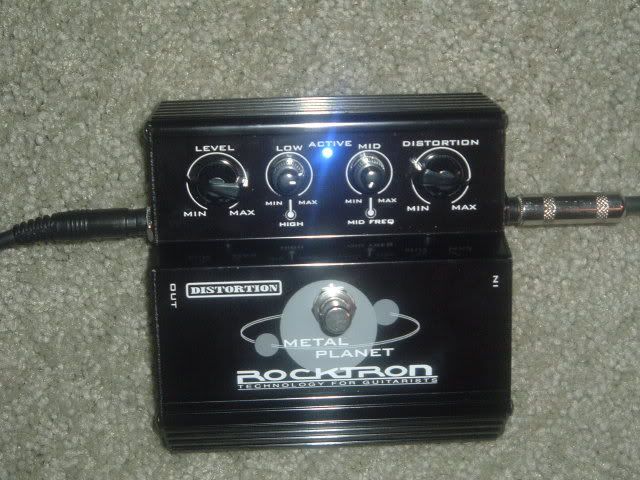 cost: $39.00 brand new @ Guitar Center
I have the boss metal zone MT-2 and the rocktron is better. :cool:
Pros:It is NOT fizzy.....excellent crunch.....very diverse in the sounds you can achieve. There is clarity to the chords i play. the sound clips do not do it justice ....it is very rich and warm in tone(and it does not munch batteries)also , my guitar still gets it's voice through which is rare... many pedals rob your guitars tone and turn it into a digital fiddle--- :D Sweet buy
Cons: have not found any yet.
Summary:...overall it is an excellent distortion pedal
go here for sound clip
http://www.rocktron.com/frameset1.html
........
or here >>>>
http://www.musiciansfriend.com/product/Rocktron-Metal-Planet-Distortion-Pedal?sku=154230
________________________________________________________________
Here is a review from Guitar One magazine--
-----------------------------------------
"Winner of Guitar One Platinum Award for Quality and Design"
Intro
"Whether your a novice guitarist or a pro who's seeking something new, this new pedal from Rocktron could be your ticket to bigger, better and more exciting tone. Featuring tough and lightweight extruded aluminum chassis, thick rubber feet that provide a solid platform on all surfaces, high-intensity LEDs and superduty switches, each Rocktron can be powered with a nine-volt adaptor or by dropping a nine-volt dry cell into its easily accessible battery compartment.
A lot of great distortion pedals have been introduced over the years, but few have produced anything close to the Metal Planet's evil chunk. The pedal's level and distortion controls may have innocuous names, but the former can produce everything from a minimal volume boost to a speaker-busting power surge, while the latter serves up copious amounts of vicious saturation.
Taking its cues from the groundbreaking Boss Metal Zone, the Metal Planet has an EQ section that features two sets of concentric pots. In the first set, the outer dial adjusts the pedal's seismic lows, while the inner knob controls its highs, which are similar in tone to a Mesa Rectifier and capable of reaching ear-splitting peaks. In the second set, the outer dial adjusts the level of midrange bite (think of it as a dedicated midrange presence control), while the inner dial sets the midrange curve. The midrange is decidedly British in flavor, but these two controls make it possible to cover everything from Black Sabbath to Children of Bodom.
This otherworldly distortion provides players with mind-boggling EQ curves and a tone that's truly mettalic. It will give life to your darkest musical desires.
The Bottom Line
Rocktron is known for producing a number of high-quality effect and amplification products. Their latest pedals, which maintain uncommon signal integrity and transparency, revisit classic themes and introduce us to unique effect functions and sounds."
Article edited for the Web