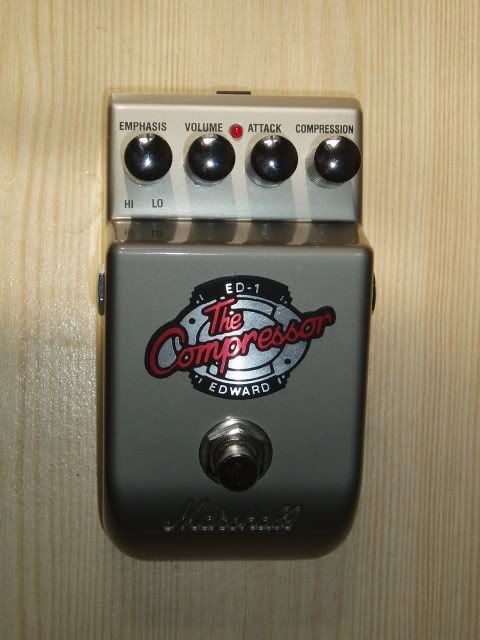 Pricing
Picked this up from ebay for £30, R.R.P. is £45 in the U.K, not sure for the U.S. though.
Pros
+ Cheap!
+ Solid construction.
+ "Passive" (true) bypass.
+ Adds nice smooth sustain.
+ Can get a nice tight funky sound.
+ Functions great as a clean boost.
Cons
- Small "pop" when turning the pedal on or off.
- Shiny metal knobs make the setting really hard to see in certain lights and on dark stages.
- Can get a tad too noisy when the compression is turned up past 12 o'clock.
- The knobs are too long, easy to accidentally adjust the settings with your foot when turning the pedal on or off.
- Takes a while to dial in desired settings.
- Dodgy jack holes.
Review
It seems that decent compressors in the pedal format are quite redundant, however, this compressor, despite its price, is actually pretty darn good! There are four controls on this pedal:
Emphasis; will allow you to alter the compression effect to emphasize the Hi or Lo tones of your sound
Volume; allows you to balance the effect level with the unaffected level of your amp
Attack; determines how quickly the compression is applied to your sound after a note is played
Compression; determines how much you cut-the-peaks and boost-the-troughs in your sound
This gives you plenty of scope to shape your compression, however this can mean it takes a while to dial in the compression you desire! However, once you've got it dialled, you can easily get anything from nice smooth sustain, to funky and tight cleans.
The instruction manual is remarkably informative, and also gives 4 examples of possible settings, this is helpful for those who are not quite clear of what exactly a compressor does or how it works.
Despite this great sounding pedal, there are a number of flaws, and nearly all of them are to do with aesthetics. First off, the knobs! They are way too tall, which means it is easily possible for you to unintentionally adjust the settings whilst turning the pedal on or off. To add to that, it is extremely hard to see your settings whilst on a dark stage or in certain bright lights due to the shiny metal construction, nice one Marshall! The input and output jacks, for some reason, allow the lead to sit out of the hole by a mm or so, even when you push them in they still come out a little bit; although this doesn't affect the travel of the signal it is still a bit disnerving. There is also a slight "pop" when the pedal is turned on or off, this can get annoying too!
The pedal can get really loud when the compression knob is set past 12 o'clock, although I guess this is to be expected, but I mean it gets unbearably loud. Also, the "emphasis" control operates in an opposite way to how most tone knobs work (treble tone on the left and bass tone on the right), which can be misleading at first.
Summary
It seems that Marshall focussed too much on making a "cool" looking "vintage style" pedal in order to appeal to a superficial younger generation. Whilst the compression from this pedal is in itself great, the annoyingly over worked "hip" looks make this pedal awkward to operate which can lead to a lot of frustration.
However, this pedal is great for the price, so if you're looking for a decent compression pedal but aren't willing to spend a fortune (i.e. on the MXR Dyna Comp), then this pedal is certainly one to consider.
7.75/10