Traynor YCV50 Blue
Bought at Musicstop in Halifax, NS
Price: ~$850 CAD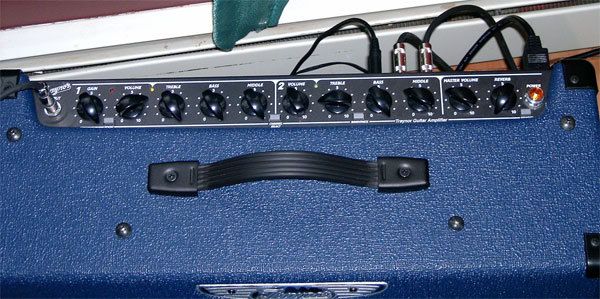 1x12 tube combo, 2 x EL34 power tubes (~50 watts), 3 x 12AX7 preamp tubes, Accutronics reverb, effects loop, 2 channels, clean has bright switch which alters it's voicing, and the overdrive channel has a boost switch which gives it a gain boost and a little more bottom end, Celestion Vintage 30 speaker.
I had been looking for a 1x12 combo that was British voiced with a high gain Marshallness to it, and that's exactly what this amp delivered. In it's stock form, the amp is great. However, being the tone whore that I am, I had to swap out the tubes. The stock Electro Harmonics power tubes were nice, but got too compressed at higher volume settings. So, I replaced them with a set of Ruby EL34GSTR power tubes, and they opened the amp up a bit. Next, I replaced the preamp tubes with a JJ 12AX7 in v1, and Tung-Sol reissue in v2, and a Sovtek 12AX7LPS in v3. The amps overdrive channel is voiced fairly dark, so the tube swap really tightened up the bottom end, and opened up the top end, and gave it a bit more clarity. Was the tube swap necessary?... No, but if you're as picky about tone as I am, it was definitely worth it.
Pros:
- 1x12 combo configuration is easy to move around
- 2 very nice sounding channels
- nice sounding reverb
- sounds good at lower volume levels
- sounds amazing at higher volume levels
- stock Vintage 30 speaker is very recording friendly
- wide range of gain
Cons:
- overdrive channel is a bit too dark in stock form, but easily fixed with a tube swap and/or an EQ pedal
- reverb is not footswitchable
- effects loop is not bypassable with the footswitch
As you can see, the cons that I listed aren't anything major. In the end, this amp ended up being exactly what I was looking for. It is the biggest sounding 1x12 open back combo that I've ever heard. It's versatile enough for the styles that I play, and more. If you're looking for a nice combo amp that is British voiced, and has a wide gain range, you owe it to yourself to give this amp a test run.
Here's a clip I did the other day. Volume wasn't too high, so it doesn't sound quite as mean as it does when really cranked. All effects were what you see in the picture. I had the EQ pedal on the whole time. The delay is the only one that's in the effets loop. The guitar is a stock PRS SE Singlecut.
>Right-click save target/link as<